Jadayel Advanced - Sealer & Hair Renewal
Hair Oil - 130 ML
Jadayel Advanced Sealer & Renewal Hair Oil by Abdul Samad Al Qurashi
Benefits
The Only Natural oil with its unique rich formula with the best generously nature given oils which carefully extracted to ensure the presence of active substances responsible for strengthening the hair follicles reaching to the edges to enjoy youthful, healthy & thick hair.
How to use
Apply the oil on hair and massage the scalp by hand for two minutes to allow the oil reaching the roots of the hair. Leave it for one hour before washing it. Use twice a week
فوائد
جدايل أدفانس مرمِّم ومجدد الشعر الزيت الطبيعي الوحيد بتركيبته الفريدة الغنية بأفضل ما جادت به الطبيعة من زيوت استخلصت خصيصاً لتحتوي على مواد فعَالة لتقوية بصيلات وأطراف الشعر ليتمتع بالصحة والرونق والحيوية الدائمة.
كيف تستعمل
يُوضع الزيت على الشعر ثم تُدلك فروة الرأس باليد لمدة دقيقتين لوصول الزيت إلى بصيلات الشعر . يُترك الزيت لمدة ساعة ثم يُغسل بطريقة عادية . يُفضل استخدام الزيت مرتين في الأسبوع .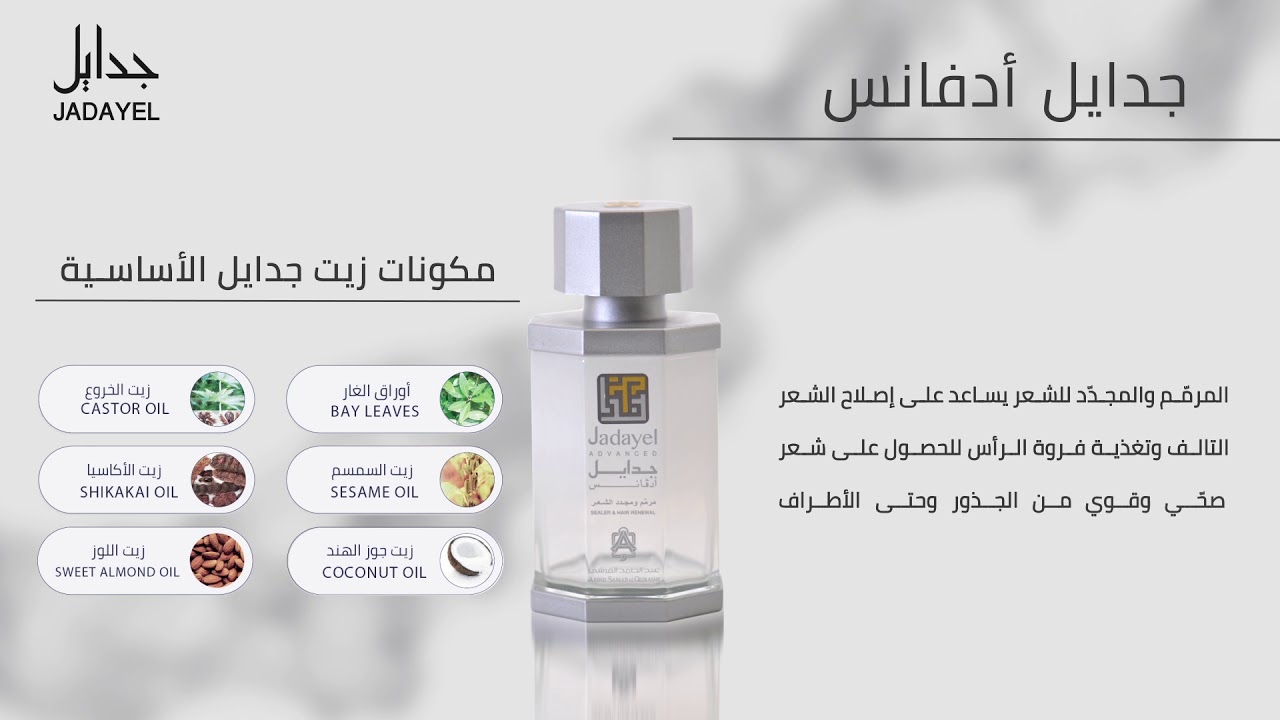 Ingredients
Mustard oil:
Activates the sebaceous glands and energize The circulation of blood, making the hair grow healthy.
Sweet Almond Oil:
Anti-dandruff.Prevents hair loss,strengthen and improves the quality of hair,leaving hair nourished.
Olive Oil:
For healthier, invigorated scalp, nou rishies. Conditions, and improves the strength and eiasticity of your hair.
Rocket (Aragula) Oil:
Strengthens hair, stop loss for hair growth, strengthen the hair roots, restore moisture and body and luster ti hair.
Bay leaves:
Aids in restoring hair's health and beauty, gives your hair straightness, imparts shine condition to the hair.
Castor Oil:
It is a natural emollient to hair.It will penetrate and make hair softer,improve hair texture and color.
Sesame Oil:
Strengthen the hair roots&nourishes the hair Shaft's,promoting new hair growth,prevents excessive brittleness and splitends.
Shikakai Oil:
Contains saponin the natural cleansing, which cleans the hair and scalp effectively, keeps the hair moisturized and prevents dehydration.
Coconut Oil:
Hair lengthen and conditioner,rebalancing your hair,prevents split-ends.leaving hair nourished.
مكونات
زيت الخردل:
لنمو شعر سليم. ينشط الغدد الدهنية يعزز دوران الدم في بصيلات الشعر.
زيت اللوز:
يزيل القشرة ويمنع تساقط الشعر ويمنح الشعر نعومة وليونة ويعطيه الحيوية.
زيت الزيتون:
يغذي, يكيف, ينشط ويصفف الشعر لضمان قوة ومرونة وتثبيت الشعر الضعيف ومنعه من التساقط .
الجرجير:
للمحافظة على الشعر من التقصف, لتكثيف الشعر الضعيف وتقويته ومنعه من التساقط ولتحسين وزيادة نمو الشعر.
أوراق الغار:
يساعد في إستعادة صحة وحيوية الشعر. يعطي القوة واللمعان وينقل الجمال والتكيف للشعر.
الخروع:
يحسن بنية ونسيج الشعر ولونه. يطول الشعر وينشط فروة الرأس. يتغلغل ليجعل الشعر ناعماً ورطباً.
السمسم:
يقوي جذور الشعر ويغذي أطرافه ويعزز نمو الشعر الجديد والحالي, يمنع هشاشة وتقصف أطراف الشعر.
زيت الأكاسيا ( الطلح ):
يعالج مشاكل تساقط الشعر ويزيل الشوائب العالقة ويعيد للشعر حيويته وجماله ويزيد غزارة وسماكة الشعر.
زيت جوز الهند:
بلسم ومطول للشعر. يمنع الترسبات الدهنية ويعيد التوازن الطبيعي للشعر ويحافظ عليه من التقصف والتكسر.
السعر مبالغ به ولا يوجد شامبو جدايل
السعر مبالغ به ولا يوجد شامبو جدايل
4/5
Jadayel Advanced - Sealer & Hair Renewal
5/5
Jadayel Advanced - Sealer & Hair Renewal