Jadayel - Anti Hair Loss
Hair Oil - 130 ML
Jadayel Anti Hair Loss Oil by Abdul Samad AlQurashi
The only natural oil with its unique rich formula which especially extracted to penetrate deeply to strengthen the hair follicles and prevent the harmful free radicals leading to anti- loss and tonic effects.
Benefits
Nourishes your hair while penetrating into the roots. An affective combination of sesame oil, coconut oil, almonds oil, castor oil, cactus oil and valerian oil and many kinds of natural herbs, that stops the penetration of free roots thus stopping hair loss.
How to use
Apply the oil on hair and massage the scalp by hand for two minutes to allow the oil reaching the roots of the hair. Leave it for one hour before washing it. Use twice a week
فوائد
زيت جدايل مانع التساقط الشهير، الزيت الطبيعي الوحيد بتركيبته الفريدة الغنية بأجود أنواع الزيوت الطبيعية والمواد الفعّالة التي تغذي فروة الرأس وتتغلغل الى الجذور الحرة الضارة إليها فتمنع تساقط الشعر وتغذيه
كيف تستعمل
يُوضع الزيت على الشعر ثم تُدلك فروة الرأس باليد لمدة دقيقتين لوصول الزيت إلى بصيلات الشعر . يُترك الزيت لمدة ساعة ثم يُغسل بطريقة عادية . يُفضل استخدام الزيت مرتين في الأسبوع .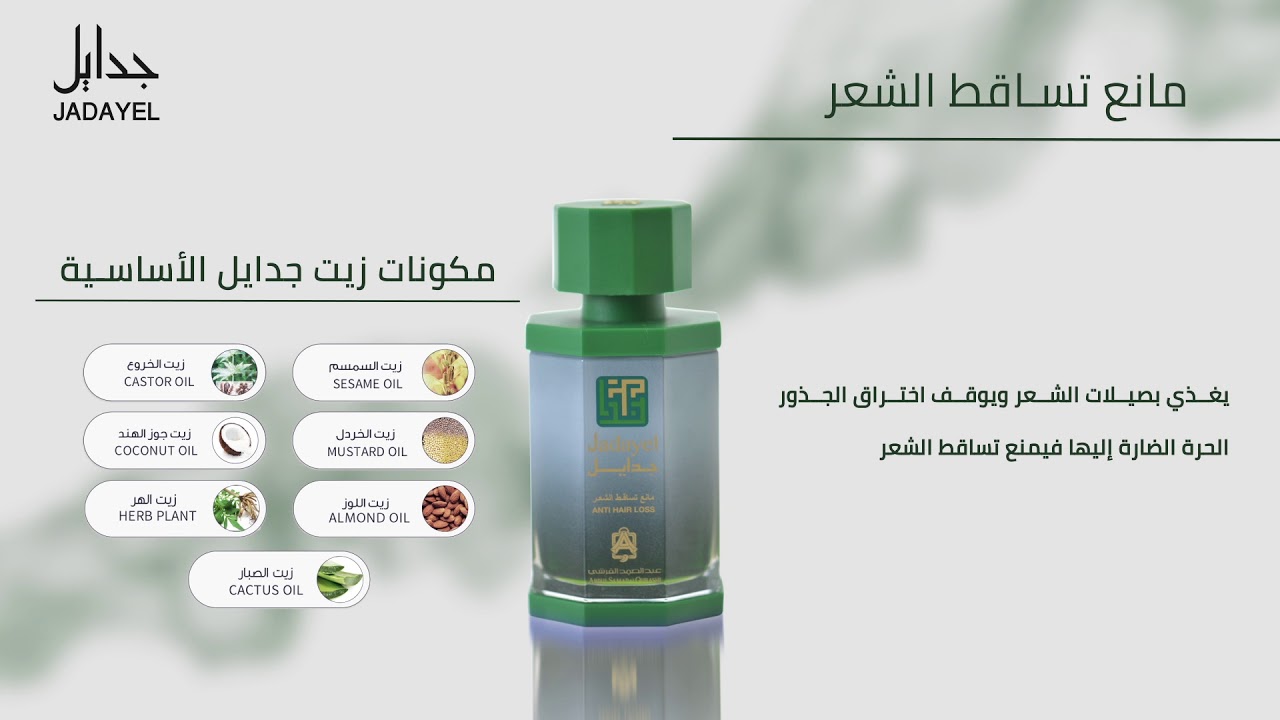 Ingredients
Sesame oil:
Strengthen the hair roots & nourishes the hair Shaft's, promoting new hair growth, prevents excessive brittleness and split-ends.
Castor Oil:
It is a natural emollient to hair. It will penetrate and make hair softer, improve hair texture and color.
Olive Oil:
For healthier, invigorated scalp, nou-rishies. Conditions, and improves the strength and eiasticity of your hair.
Mustard oil:
Activates the sebaceous glands and energize The circulation of blood, making the hair grow healthy.
Coconut Oil:
Hair lengthen and conditioner, rebalancing your hair, prevents split-ends. leaving hair nourished. Sweet
Sweet Almond Oil:
Anti-dandruff. Prevents hair loss, strengthen and improves the quality of hair, leaving hair nourished.
مكونات
زيت السمسم:
يقوي جذور الشعر ويغذي أطرافه ويعزز نمو الشعر الجديد والحالي, يمنع هشاشة وتقصف أطراف الشعر.
زيت الخروع:
يحسن بنية ونسيج الشعر ولونه. يطول الشعر وينشط فروة الرأس. يتغلغل ليجعل الشعر ناعماً ورطباً.
زيت الزيتون:
يغذي, يكيف, ينشط ويصفف الشعر لضمان قوة ومرونة وتثبيت الشعر الضعيف ومنعه من التساقط.
زيت الخردل:
لنمو شعر سليم. ينشط الغدد الدهنية. يعزز دوران الدم في بصيلات الشعر.
زيت جوز الهند:
بلسم ومطول للشعر. يمنع الترسبات الدهنية ويعيد التوازن الطبيعي للشعر ويحافظ عليه من التقصف والتكسر.
اللوز:
يزيل القشرة ويمنع تساقط الشعر ويمنح الشعر نعومة وليونة ويعطيه الحيوية.